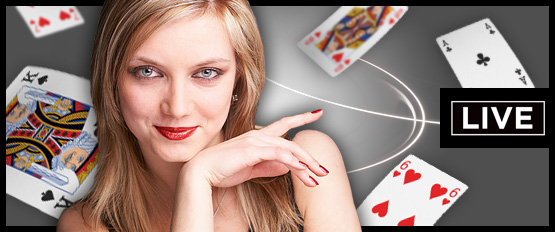 There can be no mistaking the razzmatazz of live dealer casino games. These games have been labelled glitzy, glamorous, stylish and chic - the crème de la crème of online entertainment. Now you too can immerse yourself in a majestic world of sprawling Roulette tables, Baccarat tables and expansive Blackjack greens. With our live dealer games, nothing is done in half measures. In fact, the betting arena is so lavishly adorned, that you'd be forgiven for thinking that you're in the presidential high-roller suite of Monte Carlo's finest casino.
Majestic Gaming Awaits You
Were it not for the fact that you're playing online, you'd be forgiven for thinking that you're in the lap of luxury. Regardless, this virtual gaming experience is so real that you can actually engage with our gorgeous live dealers in real time, via live streaming video. Our professional croupiers, Blackjack dealers and Baccarat dealers are schooled in the finer arts - elegance and professionalism above all else. Your gaming experience will be nothing short of exemplary, thanks to the resplendent ambience created by our dazzling casino.
Roulette, Blackjack & Baccarat
For gaming aficionados, the aforementioned 3 games rule the roost. Few games can electrify the crowds like these favourites. Roulette is otherwise known as the giant wheel of fortune, a place where dreams are realised at the spin of the wheel. Or perhaps skill-based card games are your forte, with games like Blackjack. This enticing game of 21 pits the player against the dealer in pursuit of the highest-value hand. Blackjack pays 3 to 2 and the dealer draws to 16 and stands on all 17s. The poster child of regal gaming is Baccarat. This game has been enjoyed by aristocracy throughout the centuries - royalty, nobleman and gentry alike. Now you can place your bets on the banker, the dealer or a tie. The royal courtyard is yours to enjoy!
All of the action comes to you in real-time – just like it would at a traditional Las Vegas casino. We employ the use of state-of-the-art technology, the finest professional dealers and top-notch security to guarantee a flawless experience. Be prepared to walk the red carpet with our live dealer casino games – Roulette, Blackjack and Baccarat. These games are centuries-old, and all their charm, grandeur and opulence are yours to enjoy from the comforts of your very own home. Enter the Live dealer arena where the casino whales come out to play, and sparkle with live dealer games!